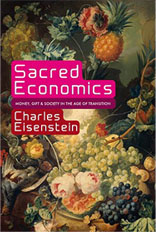 March 22nd
Our upcoming Saturday gathering will begin with a discussion of Charles Eisenstein's amazing book "Sacred Economics" — available for free online here from 2-4pm,  followed by cooking (4-5ish) a potluck meal together (5-6ish) and then music and games!
You are welcome to come at 2 for the discussion, 4 for the meal, or 6 for the music and games!  Or stay for everything!
Please rsvp by commenting below so we can best welcome you.